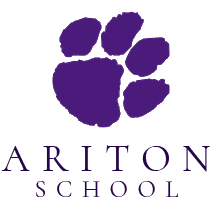 Home of the Purple Cats

The mission of Ariton School is to empower individuals to become independent, productive members of our ever-changing society.
AIMS Web Testing Dates
ALL K-8 remote learners should report to the elementary building for AIMS Web Testing on Friday, January 29, at 9:00 a.m. This is the mid-year benchmark for reading and math that we need you student to take. The testing should be over by 12:00. Lunch will not be served. We will call you to pick up your student(s) if they are done testing sooner. You may wait in you car or come back to pick them up. Students should arrive in a mask and will be six feet apart for testing. Students should be dropped off and picked up on the care line by an adult. They should not be put on the bus in the morning for transportation. We look forward to seeing everyone on Friday.
Report Cards For Remote Learners
Remote Learners can pick up report cards in the office Monday through Friday, 8:00 am until 2:00 pm..
The new year is here and we started the second semester with high hopes and happy faces. We regained a few of our remote learners from the first semester and we are happy to have them back on campus with us. We are still having a few COVID cases slip in, but we remain masked and diligent in our fight against it.
We were saddened at the end of the year to lose Mrs. Jaine Laney to retirement and Mrs. Shelby Thompson to be a full-time farmer. Although, we will miss them, we are happy to welcome Mrs. Laura Hutto to our elementary staff and are looking forward to finding our who will be taking Mrs. Thompson position in the next couple of weeks.
"Preserve the Pride" Brick
You can purchase a personalized, engraved brick permanently set in the walkway at the new Ariton Gymnasium. There are two brick sizes: 4" x 8" - $100.00 and 8" x 8" - $200.00. You can download an order form below or they are available at the school. If you have any questions, please contact Sandy Sessoms, 445-5560 or ssessoms@dalecountyboe.org.
Do You Have a "Cat Pause"?
Would you like to add a "Cat Pause" to our hallways. Maybe you have a favorite saying or an inspirational quote that you think might motivate students. Why not post it in our hallways. Please complete the order form below and return it to the school.