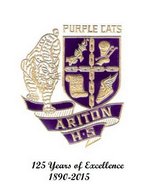 Ariton School - Making a difference for over 125 years
The town of Ariton is a result of two communities coming together in 1906. Before 1906 a community known as Charlton was located around present day Hornsby Tire; a community known as Ariosta was located around the Universalist Cemetery on HWY 51. Both towns were named in honor of railroad men. In 1906 these two communities decided to come together to make one modern town located between the two. The name of the town would be called Union City. The name Union City did not last because the post office demanded the town change its name because Alabama already had a Union City. The town leaders decided to create a name based on the two communities that came together. They took ARI from Ariosta and TON from Charlton to make the new name ARITON.

History tells us that Charlton had a school beginning in 1890, which would be the first public school in the community. As the communities changed names so did the school. In 1890 Charlton School was established, in 1902 Union City school was established, in the early 1900s a two story wooden building was built on the present campus. In 1923 the wooden school burned and was replaced by a modern brick building that opened in 1924. In 1980 a new elementary building had to be built due to increased enrollment. In 2000 the 1924 building was demolished and replaced with the current Ariton High School. In 2013 eight classroom were added to the elementary department and a state of the art greenhouse was added to the Agri-Science department. In 2019, more renovation added a new gymnasium beside the football stadium. The new gym houses a concession stand that is also used for football games.
In 2019, not only did the campus grow once again, but the academics also grew. A Pre-K program was created with the addition of a new classroom teacher and an auxiliary teacher plus sixteen excited little faces.
Ariton School currently has approximately 820 students in grades PK-12. Ariton School employs 82 people and is the hub of its community. The school has a rich tradition of academic and athletic excellence. The school has tremendous community support and prides itself in providing a quality education to the young people of the community.
Notice of Non-Discrimination
The Dale County Board of Education does not discriminate on the basis of race, color, national
origin, sex, disability, or age in its programs and activities and provides equal access to the Boy
Scouts and other designated youth groups. The following person(s) has been designated to
handle inquiries regarding the non-discrimination policies: Beverly Lampkin, 504 Coordinator,
202 S. Hwy 123, Suite E, Ozark, AL 36360, 334-774-2355, blampkin@dalecountyboe.org;
Chuck Walker, Title IX Coordinator, 202 S. Hwy 123, Suite E, Ozark, AL 36360, 334-774-2355,
cwalker@dalecountyboe.org.