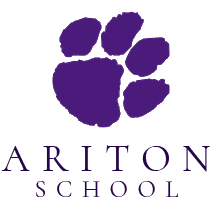 Home of the Purple Cats

The mission of Ariton School is to empower individuals to become independent, productive members of our ever-changing society.
November brought an end to very successful Volleyball and Football Seasons. Several of our Jr. High Basketball games, were cancelled, but both boys and girls teams worked hard and ended their season with wins against Northside Methodist.
Unfortunately, November also brought us several cases of Covid, which meant quarantine for several students and teachers. Thankfully, we have weathered the storm and we are all anxiously waiting our Thanksgiving break.
News From the ELA Department
Who says learning can't be be fun! Although COVID-19 has cancelled the regularly scheduled fall festivities at Ariton School, the ELA department and English students have been studying Gothic literature, reading Halloween-themed informational texts, listening to eerie podcasts, and creating some spooktacular assignments to celebrate Halloween while learning. Come by and check out some of our awesome students' work.
"Preserve the Pride" Brick
You can purchase a personalized, engraved brick permanently set in the walkway at the new Ariton Gymnasium. There are two brick sizes: 4" x 8" - $100.00 and 8" x 8" - $200.00. You can download an order form below or they are available at the school. If you have any questions, please contact Sandy Sessoms, 445-5560 or ssessoms@dalecountyboe.org.
Do You Have a "Cat Pause"?
Would you like to add a "Cat Pause" to our hallways. Maybe you have a favorite saying or an inspirational quote that you think might motivate students. Why not post it in our hallways. Please complete the order form below and return it to the school.