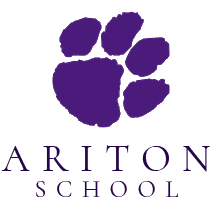 Home of the Purple Cats

The mission of Ariton School is to empower individuals to become independent, productive members of our ever-changing society.
Welcome to our new website. As you will see, it is still under construction. Due to new COVID 19 requirements, teachers have been busy getting their classrooms and curriculum ready for students and have not updated their teacher pages. We ask that you be patient and they will update as time permits.
We will post announcements and news stories frequently and hope to keep you informed as this year of changes progresses.
September Finishes as Busy as It Started
The members of FBLA remembered the heroes of 9/11 by making red, white and blue ribbons. They distributed them to all the faculty and staff to wear. What a patriotic reminder of the lives lost on that dreadful day.
With the High School SGA elections behind us, it was time for the elementary to take the stage. With the elementary halls filled with posters, over twenty young leaders bravely stepped to the microphone to present their platform for the for four offices. The new officers are listed below.
Before the school day began on September 23, over 120 students met on front campus for "See You at the Pole," sponsored by the Christian Club. Four students earnestly prayed for our country, our state, our community and our school.
The 2020 Homecoming Queen and her court were chosen. Miss Zhee Oliver will be crowned as Queen. The theme for Homecoming was also chosen and it will be "Unmask the Rebels." So get ready for some heroes and villians to show up wandering the halls.
As September comes to a close and October slides in, we are anxiously looking forward to cooler weather and another busy month.
2020-2021 Student Officers
SGA OFFICERS
President - Carson Strickland
Vice President - Colson Collier
Secretary -Katelyn Williams
Treasurer - Noah Phillips
Reporter - Zhee Oliver
Sentinel - Paige Blankenship
FFA OFFICERS
President - Bryan Macario
Vice-President - Rike Tzanahua
Secretary - Justin Mast
Treasurer - Jaylei Strickland
Reporter - Ryan Connell
Sentinel - Austin Boswell
FFA COMMITTEE CHAIRMAN
Yamell Cosme
Reagan Hollis
Joanna Wallace
Logan Bush
Colin Bush
Hunter Holmes
FFA 7th/8th GRADE LEADERSHIP TEAM MEMBERS
Bowen Jones
Laney Deloney
Annabelle Wesley
Madison Guilford
Zoilita Rojas
Gabe Jones
FBLA LEADERSHIP TEAM
President - Bryan Macario
V Pres ( State Affairs) - Colson Collier
V Pres (Special Projects) - Hayley Messer
V Pres (Recognition) - Jake Jones
V Pres (Public Relations) - Katelyn Williams
Secretary - Reese Peters
Treasurer - Lily Nguyen
Reporter - Jay Cook
Historians - Alayna Williams/ & Savanna Senn
Parliamentarians - Zhee Oliver & Rike Tzanahua
FBLA LEADERSHIP TEAM (con't)
Community Service Team: Hannah Mock (Chair), Gabriel Tirado, Savanna Johnston, Yuridia Gonzalez
March of Dimes Team: Kane Knighten, Hailey Pilot, Ana Colohua, Anthony Tzanahua
Class Representatives: Yamell Cosme (Senior), Sarah Casey (Junior), Sophie Kirk (Sophomore), Neviah Leatherwood (Freshman)
ELEMENTARY SGA OFFICERS
President - Grant Davis
Vice-President - Pierce Gill
Secretary/Reporter - Gracie Paramore & Ali Smith

ATTENTION: Remote Learners
"Preserve the Pride" Brick
You can purchase a personalized, engraved brick permanently set in the walkway at the new Ariton Gymnasium. There are two brick sizes: 4" x 8" - $100.00 and 8" x 8" - $200.00. You can download an order form below or they are available at the school. If you have any questions, please contact Sandy Sessoms, 445-5560 or ssessoms@dalecountyboe.org.
Friday Night Football Tickets
Football Players, Cheerleaders, and Band Members will be able to purchase 2 tickets for Friday night's game on Tuesday through Thursday. Tickets are $7.00 each and can be purchased during break and lunch from Ms. Petty in the Elementary Building.
Homecoming Plans
The excitement is building as October 8 is now coming into view. The usual plans have been adjusted and we are saddened that "Tailgating" has been cancelled, but we plan to make this week full of fun and school spirit. COVID can't stop the CAT PRIDE that grows from deep within a true PURPLE CAT!!

Homecoming Week Plans
Dress up days are as follows:
Monday- Twin Day
Tuesday- Rapper/ Rocker Day
Wednesday- Decade Day
Thursday- 7-12 Dress Your Best
Pre K- 6- Purple and Gold
Homecoming Day Plans
- Assembly - Crowning of the Homecoming Queen and Presentation of Her Court
11:30 - School will be dismissed
7:00 - Game - Queen and Court will be presented at halftime
2021 Yearbooks are on Sale
Time is running out to order your 2021 Yearbook. You can order at www.jostonsyearbooks.com or use the order form below and return to the school.

A Change in Volleyball Schedule
The Volleyball game on October 1 against Goshen has been cancelled. A tournament on October 3 in Dothan has been added.