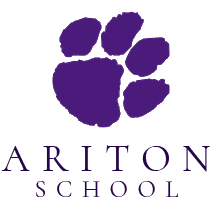 Home of the Purple Cats

The mission of Ariton School is to empower individuals to become independent, productive members of our ever-changing society.
FFA 2020 Fruit Sale
The Annual Fruit Sales have begun. Please see an FFA Member or contact the school to purchase your holiday fruit. Whole or half boxes.
Mandarin Clementines - Navel Oranges - Red Grapefruit - Red Delicious Apples - Golden Delicious Apples and Various Nuts
October has continued to be a busy month. We have begun the Jr. High Basketball season with both our boys and girls teams. Class favorites for each class were selected throughout the elementary and high school. Our Seniors have been applying to colleges and will be selecting Who's Who among their classmates. Our newly organized bass team has received their official team jerseys and two team members placed in the standings for the first time. Our Volleyball Team has made it to the State Finals and our Football Team will compete in Round One of the Play-offs. The annual fruit sale by the FFA has begun. We also welcomed back on campus some of our remote learners. As we end up the month and look toward November, we hope it will be "mask-less' and Covid free.

"Preserve the Pride" Brick
You can purchase a personalized, engraved brick permanently set in the walkway at the new Ariton Gymnasium. There are two brick sizes: 4" x 8" - $100.00 and 8" x 8" - $200.00. You can download an order form below or they are available at the school. If you have any questions, please contact Sandy Sessoms, 445-5560 or ssessoms@dalecountyboe.org.
October 26-30 is Red Ribbon Week. This year's theme is "Be Happy, Be Brave, Be Drug Free." Dress up days are:
Monday - Drug Free Kick Off Day - Wear red
Tuesday - Be Successful and Be Drug Free - Occupation Day
Wednesday - Sock It to Drugs - Wear silly socks
Thursday - Lei Off Drugs! - Wear Hawaiian clothes
Friday - Team Up Against Drugs - Wear your favorite team colors

"Anything Goes"
The first Rehearsal of ANYTHING GOES, will be Monday 26th, 6:00-7:30, instead of Tuesday 27th. No rehearsal on Tuesday next week. Anyone who wishes to participate in being in the chorus, working tech, or set design, that has not turned in a information form, come on the 26th and turn in or fill out an information form. That will be the last time you can do this.
Any questions, contact Margie Benson, at
Margiebenson1@gmail.com